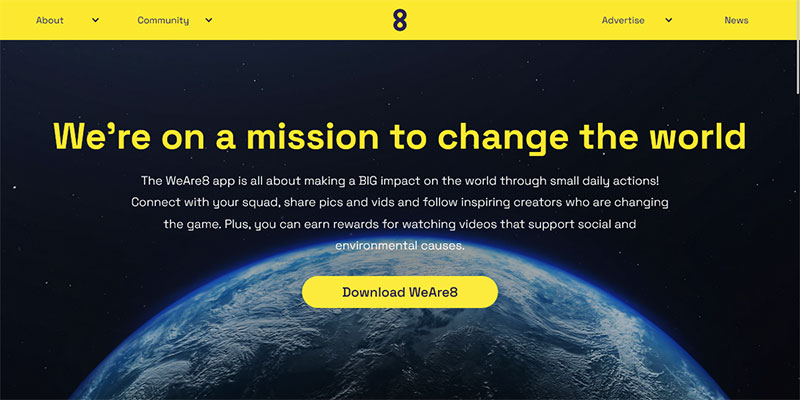 WeAre8 is a social media alternative to algorithm- and ad-driven platforms. Its ad model lets people opt in and get paid to watch ads — the money earned can then be withdrawn or directed to charitable causes. The company's mission is to unite 1% of the population (80 million people) to make a positive impact every day, and by doing so, redirect 10% of the world's digital advertising spend to a place where brands, people, and charity unite. Through its "solutions with impact" division Collaborate, WeAre8 is also a growing part of the digital creator economy, actively helping creators to nurture a community, drive engagement, and explore collaborations with relevant brand partners. For more information, check out the links below:
WeAre8 expands to the US (Ad News)
Get Paid to Watch Ads on This Hate-Free Social App, Launching in the US (AdWeek)
Going Global: Behind the WeAre8 launch into the US market
2023-24 Action Plan
Description
WeAre8 has 8 areas of impact, one of which is health. In this category, we partner with and support a number of mental health organizations, many of whom focus on improving the mental health of youth. We are committed to ensuring that there is at least one youth-focused mental health nonprofit as a beneficiary (Impact Partner) of our donation model in every market we operate.
Our tech team optimizes the platform to encourage and enable the flow of donations to our Impact Partners and our marketing team is responsible for identifying and supporting relationships with our nonprofit beneficiaries.
Measurement
In the U.S., we currently support the JED Foundation (JED equips America's teens and young adults with the skills and support they need to grow into healthy, thriving adults). WeAre8 is committed to supporting JED's growth on the platform and working with them to build campaigns that support youth mental health both online and off.
Alignment
WeAre8 actively directs a portion of company revenue to nonprofits that support youth mental, which is aligned with the Inspired Internet's principle, "Tune for Emotional Wellbeing".
Description
WeAre8 founder Sue Fennesey and CTO George Taskos are committed to building tech that supports hate-free and positive experiences for our Citizens (users), Impact Partners (beneficiaries), Brands (advertisers), and Creators by actively curating an environment of inclusivity and positivity.
WeAre8 has publicly stated that we won't tolerate hate on our platform and that it is algorithm free when it comes to serving up content.
Measurement
WeAre8 launched in the U.S. in 2023 with the following features in place to support and environment of inclusivity and positivity:
Enhanced Authentication Measures: Rigorous authentication protocols, including mobile phone verification for all platform participants, ensures a high barrier against the admittance of bots and malicious entities seeking to operate through multiple anonymous accounts. To further ensure the platform's integrity, only verified content creators are permitted to make public posts, limiting the chance of unsafe or inappropriate content.
Moderation Framework: Employing advanced AI algorithms, content moderation is bolstered through the identification and management of unsuitable material. Additionally, a global team of human moderators ensures round-the-clock vigilance, adhering to a zero-tolerance policy toward content that does not meet community standards. The platform implements a "one-strike" policy, wherein a repeat offense culminates in removal from the platform. By promoting and rewarding content creators who foster empathy, collaboration, and understanding, the platform actively incentivizes interactions that contribute to prosocial conduct and a supportive digital ecosystem, shaping the behavior of individual users as well as contributing to the overall vibrancy of the online community.
Transparent Reporting: Citizens are provided with the ability to report inappropriate material on every piece of content. WeAre8 provides transparent guidelines for addressing safety concerns — users are empowered to report inappropriate content, harassment, or any safety issues they encounter, ensuring a responsive approach to maintaining a secure environment.
Alignment
WeAre8's approach is deeply aligned with the Inspired Internet's Pledge's principle of "Listen and Act" through our commitment to user safety, fostering positivity through AI, and promoting prosocial behaviors.
In essence, WeAre8's strategy encompasses providing users with tools to voice safety concerns, and leverages AI to create a positive environment. This approach reflects the platform's dedication to facilitating a secure, uplifting, and engaging digital space for all its users.