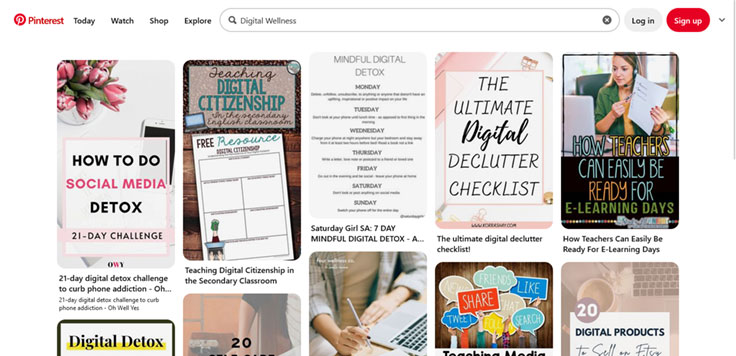 Pinterest is a visual discovery engine for finding ideas for recipes, home and style inspiration, and more, with 482 million active monthly users. The company is committed to being the "positive corner of the internet" and seeks to provide the tools and resources needed to protect user safety and privacy. Users have to meet minimum age requirements to sign up, and there are certain protections in place for teens, e.g. teens accounts under 16 are private. For more information, please visit our company page.
2023-24 Action Plan
Description
Pinterest will center our commitment to making the internet a healthier place through Product, Thought Leadership, Policy, and Strategic Giving over the next twelve months. We will gauge our progress by:
Product
Investing in the measurement and tracking of Pinner wellbeing and advancing product features and experiences that are correlated with positive wellbeing.
Thought Leadership
Convening at least four (4) thought leadership conversations that center on defining key milestones for the broader online ecosystem – for example:
Technical expert summit for product and/or research leads to share challenges, solutions, and best practices across the Inspired Internet Pledge community
Strategic giving summit focused on pairing giving with organizational capacity building
Public policy summit to brainstorm and share tangible public policy solutions that address prominent areas of concern
Community guidelines summit to share best practices, biggest lessons, and brainstorm opportunities for cross-collaboration.
Policy
Examining where and how our Community Guidelines and product can be more inclusive and building toward an experience where all Pinners can see themselves reflected in their day-to-day experience on Pinterest.
Strategic Giving
Investing at least 50% of our 2024 strategic giving to support youth mental health and emotional wellbeing, prioritizing culturally-led and community-based preventative approaches, strengthening organizations' long term capacity, and building trust-based, mutually accountable relationships.